INDIAN FOOT MASSAGE TRAINING
1 DAY - 10AM TO 5PM $299 + GST
Equipment required for treatment: Massage Table - Bolster - Sheets, Blanket, Towels, Telecaster (rolling) Chair. Ghee (purchase at health food and some grocery stores- ghee is provided in class for the training by the instructor)
Copper Bowl - one upper bowl is provided with the training fee -each paid student may purchase 1 more bowl for $55 (to buy an additional bowl please see payment page icon)
This treatment is done on a Massage Table and is not suited to a Reflexology chair.

This course will teach you the basics of working with the three Ayurveda dosha's (Pitta, Kapha and Vata) and how to bring these back into balance through this ancient foot treatment. This treatment is considered a tri-dosha balancing treatment.

This unique treatment, steeped in centuries of Ayurvedic ceremony is delivered with a copper bowl bowl and ghee (clarified butter). The treatment, also includes a combination of massage techniques that pin point the 6 marma points on the feet and lower limb as well as, the seven chakra regions of the feet.
Each student will receive 1 copper bowl made of three metals (zinc, tin and copper) to use during the class, and to take home to use in their practice. Additional bowls may be purchased at the course.

The combination of metals in the bowl has a powerful effect on the body's energies, and is more effective than gold and silver on the various internal organs and energy channels.

This instruction is simple enough to absorb in one day, but powerful enough to bring relaxation and balance for a dramatic shift in your client's energy.

You will receive a certificate of completion for your credits but at this time, no advanced certification is offered.
--------------------------------------------------------------------------
BENEFITS & CONTRAINDICATIONS
Helps detoxify internal organs

Relaxes tired feet and legs

Improves blood & lymphatic circulation

Improves joint mobility in lower limbs

Improves condition of ligaments and muscles of the lower limbs

Increases strength and stamina of lower limbs

Relieves tired eyes and brings relief from eyestrain

Rebalances the body's natural energy flow
Mental Benefits
Calms the mind and body

Enhances mental activities

Induces sound sleep

Reduces stress, anxiety & depression

Restores & Rebalances t

he body's natural energy



Copper (the bowl used in the treatment) encourages

Elimination of Free Radicals
Development of Bone & Connective Tissue
Melanin Production
What are some of the Contra-Indications of Indian Foot Massage?
This treatment is not suitable for those who have bulging varicose veins or other unexplained bruising to the lower limbs.
Please do not sign up for the course if you have either of these as you are required to be worked on during the training.
Recent injury or broken bones in the area worked.
Recent strains or sprains that are still painful to touch.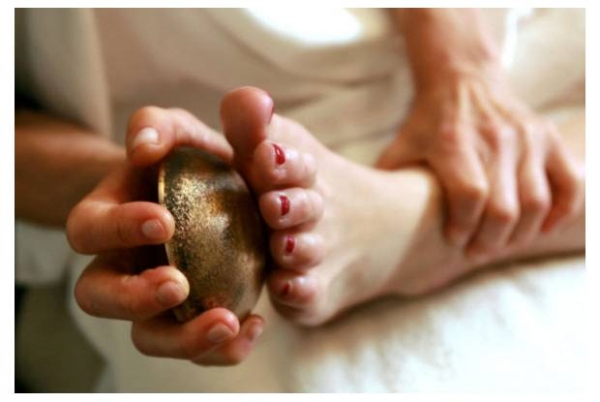 Prerequisites for Indian Foot Massage Training
While there are no pre-requisites for this training. It is good to have a strong desire to do hands-on body work and to consider adding other complimentary healing arts training like; Reiki and Chakra Balancing.
In this class you will be taught some basic anatomy and physiology on the area of the body you will be working on during the training. I highly recommend reviewing a version of the Anatomy and Physiology Coloring Book (found both online or at Chapters) for the lower legs and feet.
Indian Foot Massage just like Indian Head Massage is an excellent starting point for entering the healing arts but is also a sound training for those who are already well versed and trained in the healing arts.
These 3 Therapies are great services to offer in a Private Practice, Spas, Wellness Centers, Yoga Centers and Salons.