INDIAN HEAD MASSAGE TRAINING
3 Day Course
9:30AM to 5:30PM $400 + GST
Equipment required - any comfortable Low Back Armless Chair and a small pillow. Hair Oil is optional (discussed in class)
Students are not required to bring chairs to class.
Not suited to the European Massage Chair.
NO this treatment cannot be done a table.
INDIAN HEAD MASSAGE is a 4000 year old therapy that treats the person on 3 levels; the physical, mental, and subtle. The modality is a combination of the traditional Indian head massage moves originating from India along with non-traditional moves given to the face, neck, upper arms, and shoulders. An Ayurvedic element of work is done on the three higher Chakras (Visuddha, Ajna, and Sahasrara), which will assist the body's energies to rebalance. The delivery of a hair and scalp conditioning oil at the end of the treatment is completely optional. No oils are used during the treatment.

This unique and ancient massage is done while a
client sits
fully clothed in
a comfortable low back chair.
It is the most versatile of all massages out there. Simply said, this massage can be done anywhere you can set up a chair for your client to sit on and receive this treatment.
In the three-day intensive course, Lee-ann Harder, (tutor of this therapy for 7 years) will provide a comprehensive grounding in the theoretical basis and practical application of Indian Head Massage. Students will be able to use the technique as a principal or complementary part of their professional practice.
The course includes three days of practical instruction and a very detailed workbook with pictures. An attendance certificate will be awarded at the end of the course which allows students who qualify to collect credits.
According to Lee-ann, students repeatedly tell her "Indian Head Massage has changed my life both as a receiver, and practitioner of this powerful therapy. The treatment can be done anywhere, anytime, and the benefits for both the practitioner and receiver are tremendous. It is a treatment that I never tire in giving."
For the
optional
additional certification you must complete the practical homework and case studies. (This is further discussed in class) Not a requirement for the first certificate of completion which is received in the class.
**** PLEASE NOTE**** This is an immersion style training. Do be sure you have people to practise on daily (after class) while attending the course and immediately after.
This treatment is definitely well suited with the Indian Foot Massage as a complimentary treatment done prior to the Foot Massage.

---------------------------------------------
BENEFITS
Some of the benefits of Indian Head Massage
General over all relaxation.
Improved blood circulation increasing oxygen supply to the brain
Relaxes taut and uncomfortable muscles, eases stiffness, breaks down knots and nodules in muscle tissues.
Stimulates blood circulation and drains away accumulated toxins
Increased joint mobility.
Improved lymphatic drainage which helps in the removal of waste products and toxins helping the immune system.
Can give your hair a healthy lustrous shine and improve skin condition.
Encourages deeper breathing and deep relaxation; very enjoyable and triggers the release of "feel good" chemicals called endorphins creating an almost euphoric sensation of contentment and happiness.
Promotion of hair growth
Helps to dissipate mental tiredness, stress, depression resulting in greater mental alertness and concentration and clearer thinking.
Can create a more balanced state of being, and balancing of the Chakras
Contra-Indications for Indian Head Massage
Recent whiplash or injury to the neck or upper back,shoulder and head region
Chronic Fatigue ( if advanced and non-resolving )
Clients under-going medical treatments ( with Doctor's approval this can be done)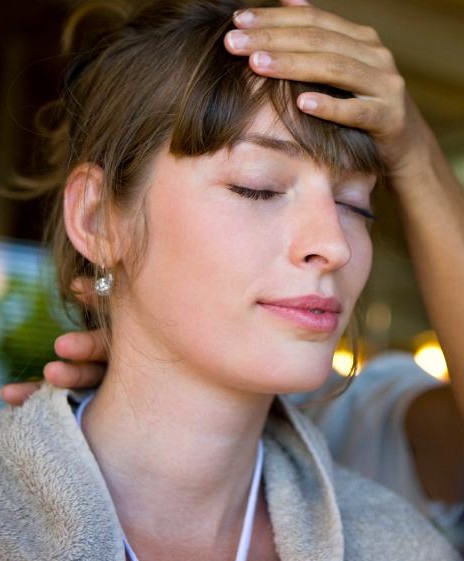 Prerequisites for Indian Head Massage Training

While there are no pre-requisites for this training. It is good to have a desire to do hands on body work and to consider adding other complimentary healing arts training like Reiki and Chakra Balancing.

You will be taught some very basic Anatomy and Physiology in the course on the areas of the body you will be working on. I highly recommend the simple version of the Anatomy and Physiology Coloring Book ( found online or at Indigos ) - I also recommend that you pre study and become familiar with the Chakra system.

Indian Head Massage Training is a good starting point for learning the healing arts. It is an intense training so it is best to come well rested to take this training.

These 3 therapies are great services to offer in a Private Practice, Spas, Wellness Centers, Yoga Centers and Salons.

About the Indian Head Massage Training Experience.
"I have been a RMT for 16 years in Canada and another 9 years prior as a Massage Therapist and Physiotherapist in Europe. During these 25 years I have taken a good number of continuing education courses with a variety of instructors. I would place Lee-ann in my top 5. I love her interaction and precise correction with the placement of the hands/fingers and what it is we are supposed to feel in order to delivery this therapy well.
I would recommend this Indian Head Massage training course to any massage therapist who wants to learn a technique that easy to use in any setting (as long as you have access to a chair) and on everyone! (no clothes removed)." Christine Labrot - Magic Fingers - Canmore.