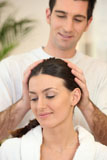 INDIAN HEAD MASSAGE TRAINING
3 Day Course
IN CLASS: 9:00 AM to 5:00 PM
NO PRE REQUISITES REQUIRED
Private Training Sessions for your group
or team are available.
OCTOBER 1st, 2nd, 3rd
(Saturday, Sunday, Monday)
Offered immediately after Indian Foot Massage

Winter/Spring 2023 dates

JANUARY 27th, 28th, 29th
(Friday, Saturday, Sunday)
Glamorgan Community Centre
More information soon for these dates.
EDMONTON - MAY 5th, 6th, 7th
SASKATOON - May 26th, 27th, 28th
Private Training Dates available for booking
February 23 up to the 28th
PLEASE READ FULL DETAILS IN PDF BELOW FOR MORE DETAILED INFORMATION ABOUT THE TREATMENT.
CONTINUE FOR MORE INFORMATION INCLUDING A SHORT VIDEO
PLEASE READ THE LINK BELOW FAQ BEFORE MAKING AN INQUIRY.
Before registering and sending payment please
read both PDF 's to left or above this.