Student 'Stephanie' receiving the 'Lifting Moves' in a training session.
Calgary May 2022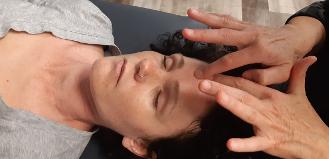 PLEASE NOTE: ONLY THOSE WITH AN AESTHETIC BACKGROUND, REFLEXOLOGY & MASSAGE THERAPY TRAINING OR OTHER FACIAL TRAINING WILL BE PERMITTED TO TAKE THIS TRAINING.
NATURAL (THERAPEUTIC) FACELIFT MASSAGE
4 DAYS - $799 + GST ($838.95)
NEXT TRAINING SESSIONS
***********************************************************

2023 Dates
MAY 25th, 26th, 27th, 28th
MH Vicars
(1 of 8 seats open)
(Thursday, Friday Saturday, Sunday)
EDMONTON
June 9th, 10th, 11th, 12th
MH Vicars
(3 of 8 seats open)
( Friday Saturday, Sunday, Monday)
November 3rd, 4th, 5th, 6th
(Thursday, Friday Saturday, Sunday)
Equipment required for the treatment: A Standard Massage Table - Bolster/PiIlow - Sheets, Blanket and Rolling Stool/Chair. You may be asked to bring one or more items to the training. If the training is offered at a Massage School you will not be required to bring in these items.
No products are used during this treatment.
No Fingers are ever inside the clients mouth.
Please read the full details about this treatment using the tab below.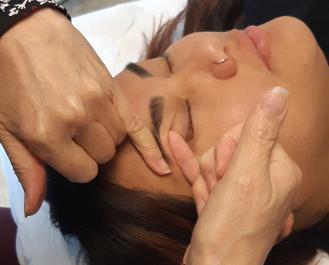 The photo below is student Rozie (June 2022) Final day of 4-day training. Both pictures taken on the same day. Notice the puffiness in her face in the before photo versus in the after and how much this has diminished and her eyes appear to be more open. Also notice the definition around the jaw line. Eyebrows are more lifted.